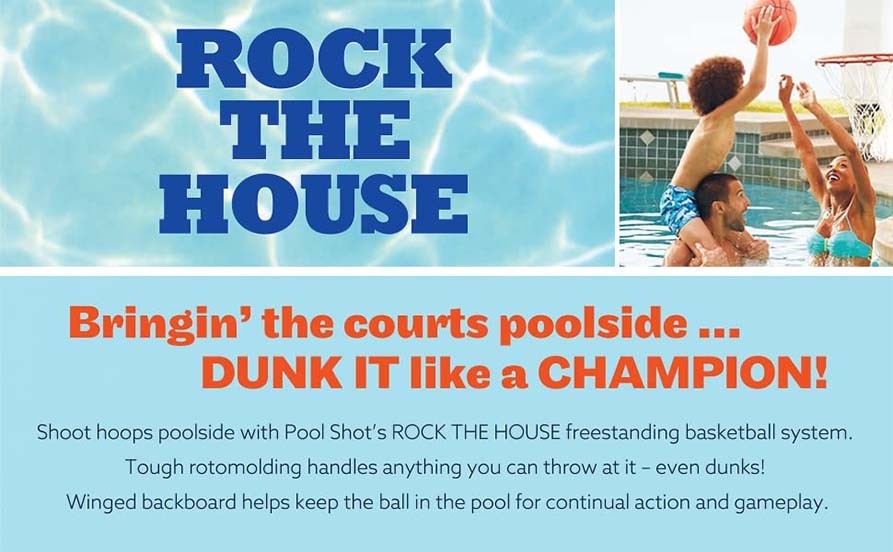 Our Rock-the-House Water Basketball for in-ground, on-ground and above-ground pools with decks features a winged backboard that helps corral airballs and return them to the players. Smart players can also use the wings to score points off the angled backboard.
The backboard is set atop our rugged, interchangeable base that fills with pool water or sand for extra stability. Both the backboard and base are rotationally molded of polyethylene to withstand rain, snow, chlorine and sunlight for years. The all-plastic design has no metal parts to rust, it assembles in a snap and can stay outside year-round. Or drain the base and store it seasonally.
Note: Rock-the-House Water Basketball System is not adjustable. If you are looking for a sytem that is adjustable, you may be interested in our Adjustable Varsity Basketball Pool Hoop System.
Shipping Details
: This item ships standard for $0.00 to the Continental U.S.

You can find other products like this 'Rock-the-House Water Basketball System from Pool Shot', by clicking on the following links:
Departments, Sports, Equipment, Basketball, Recreational Sports, Swimming, Water Sports, Individual Sports, Outdoor Activities, Team Sports
Whether you are a professional, amateur or a fan, OnlineSports.com has one of the largest collections of sporting goods, sports equipment, accessories for various sports and outdoor activities and all that you require to pursue your passion for your particular sport. Check out some of the other great products similar to 'Rock-the-House Water Basketball System from Pool Shot' at the following related categories:
Departments, Sports, Equipment, Basketball, Recreational Sports